The Top 4 Things All Home Buyers Wish They Knew Before Buying
Posted by Bob Sokoler on Monday, June 25, 2018 at 10:41 AM
By Bob Sokoler / June 25, 2018
Comment
Nearly all of us at some point in our lives have gone through the regret of buyer's remorse. For some, it may be just a small sting of an embarrassing outfit and for others a large life-altering event. When that buyer's remorse involves a major life purchase such as a home purchase it can take a long time to recover, sometimes several years.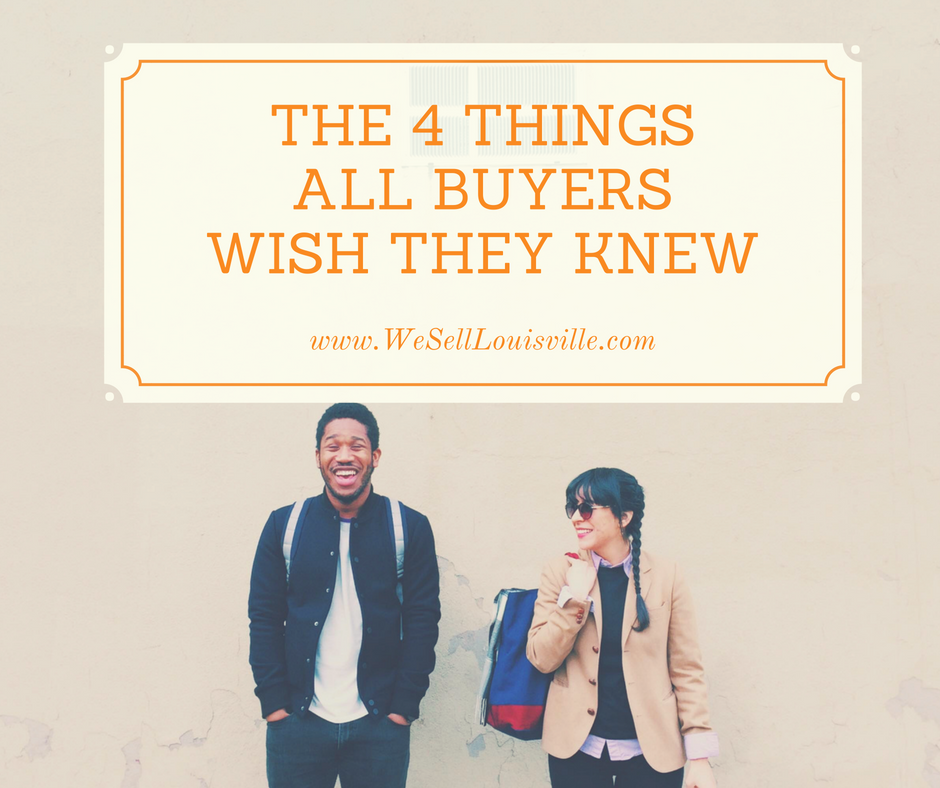 Purchasing a home is a huge process not just because you are spending a huge sum of money, but also because of all of the details, legal jargon, insurance, relocation, repairs/maintenance, and more. Before purchasing any home there is a fair amount of homework and educating yourself on all the aspects of the large purchase you are about to make.
Here are the top things homebuyers wish they knew before taking the plunge into homeownership.
Today's current housing market is very competitive. It is definitely a seller's market with significantly fewer homes for sale than buyers looking to purchase, because of this it is not uncommon to end up in a bidding war for a home that has only been on the market a few days. It can be extremely frustrating and discouraging if you don't go into the buying process with a patient outlook. It may take a few bidding wars and even looking at houses you don't think you are going to like before you find the right home. This could take longer than you expect as well.
Don't get impatient and settle for something you don't truly want that won't fit your lifestyle needs.
Know and Have Good Comprehension of Pre-approval and Loan Processes
Since home loans began it has always been important to have healthy finances to obtain a loan. Now more than ever, it is important to have meticulous knowledge of your financial status. Post-recession of 2007 banks are far more cautious in approving loans. They look into credit scores of all loan applicants, not just the main applicant. They want to see a healthy credit-to-debt ratio.
Don't co-sign for other loans, make large purchases, apply for new credit during the approval process, etc. A loan officer is going to ask you for many different documents to fully and maybe even over-communicate you are responsible with your finances and they are healthy. Have loan paperwork ready to go because if they ask for proof of something and it takes you forever to provide that can hurt your chances. It communicates you are not on top of and responsible for your finances.
Related: Is "OFFERPAD" a Good Way to Buy and Sell Homes?
Interview More than One Realtor
Working in real estate is a lucrative market, because of this not everyone who gets into real estate does so because they love the job and truly want to help people. Don't just pick the first agent that comes up closest to your location in the google search. Call up a few real estate agents and interview them and do your homework on them. Know who you are hiring and the main points of what you want them to be able to do for you.
Thoroughly Inspect the Product
When purchasing a home most of the burden of knowing the current condition of the home is on the home buyer. (By law owners are required to disclose certain big-ticket issues.) Make sure you do not wave your inspection contingency. This is happening more and more as the market becomes highly competitive, but unless you have a huge reserve of money set aside for home repairs, this is a bad idea. Get a highly qualified and extremely thorough inspector.
Related: Who buys ugly houses?

As the buyer, many questions about the home will pop up during the inspection process. Don't stay silent; ask the questions. If you see something that seems out of the ordinary to your eye that the inspector doesn't point out don't assume they don't consider it an issue go ahead and ask them about it. The pickier you are in the inspection process the more knowledgeable you will become about the current condition of the property. This will help you determine if you want to proceed with the purchase and take on the cost of certain repairs, negotiate a better price because of the repairs, or walk away to find a home in better condition.
When you move, you can use our truck!
The Sokolar Medley Team can help you in the home buying process. Our knowledgeable Louisville Sellers Agents are dedicated to helping buyers become comfortable and smart with the entire purchase. For more information about our services please browse our website or contact us anytime.