Real Estate Expert Bob Sokoler Signs Publishing Deal For New Book, "Ultimate Home Buyers Guide"
Posted by Bob Sokoler on Tuesday, December 4, 2012 at 5:53 PM
By Bob Sokoler / December 4, 2012
Comment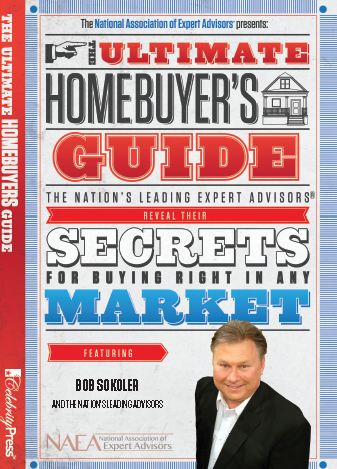 FOR IMMEDIATE RELEASE

Real Estate Expert Bob Sokoler Signs Publishing Deal With CelebrityPress For New Book, "Ultimate Home Buyers Guide"

Bob Sokoler, top real estate expert in Kentucky, will team with CelebrityPress, a leading book publishing company, and several leading real estate experts from around the country to release the book, "Ultimate Home Buyers Guide."
Louisville, Ky. – October 25, 2012 – Bob Sokoler, real estate and technology expert, has joined a select group of the America's leading real estate experts, along with noted real estate professionals and coaches, Jay Kinder and Michael Reese, to co-write the forthcoming book titled, "Ultimate Home Buyers Guide: The Nation's Leading Expert Advisors Reveal Their Secrets of Success for Buying Right in Any Market." Nick Nanton, Esq., along with business partner, JW Dicks, Esq., recently signed a publishing deal with each of these authors to contribute their expertise to the book, which will be released under their CelebrityPress imprint in February 2013.
When it comes to selling Louisville Homes, Bob Sokoler is ranked as number 1 for full service agents in volume among more than 3400 Louisville Real Estate Agents. For more than 20 years Bob was a TV Anchor and Reporter winning several Emmy awards for his work.
Known locally as a technology expert, Bob combines his love of real estate with technology and prides himself on being on call 24 hours a day. Bob is also a licensed agent in Indiana and with a larger combined market to work with he is able to help even more buyers and sellers with their real estate needs. Change to: Working with the combined markets of Kentucky and Indiana, Bob is licensed in both; he is able to help even more buyers and sellers with their real estate needs.
"The Ultimate Home Buyers Guide" features top advice and practices from the leading real estate experts from across the globe that has been crucial to their success in the real estate industry. The authors cover a variety of topics and share from their experience: choosing the right agent to represent you, handling short sales, why buying and selling strategies are important, referrals, contracts and negotiations, and how to avoid common mistakes when buying or selling real estate. The book is expected to be published in early 2013.
To learn more about Bob Sokoler, please visit https://www.weselllouisville.com/
About Bob Sokoler:
In addition to reporting and anchoring TV news reports, Bob has been buying and selling homes while moving around the country for almost 25 years. From Flint, Michigan to Salt Lake City, Utah to Baltimore, Maryland to Orlando, Florida to Atlanta, Georgia to finally Louisville, KY. In addition to his Emmy awards and winning other awards for his reporting, Bob's hobbies include Computers, Photography, Home Repair and Gardening.
About Celebrity Press™:
Celebrity Press™ is a business book publisher that publishes books from thought leaders around the world. Celebrity Press™ specializes in helping its authors grow their businesses through book publishing. Celebrity Press™ has published books alongside Brian Tracy, Dr. Ivan Misner, Ron Legrand, Mari Smith, Kelly O'Neil, Alexis Martin Neely and many of the biggest experts across diverse fields.
Contact:
Lindsey Showalter
Dicks and Nanton Celebrity Branding Agency®
800-980-1626