Thanksgiving means parades, football, family, friends, and food- lots of food. It's all about coming together around a large feast and hopefully reflecting on all of our blessings while enjoying one another's company. If you are hosting this year that means all of the festivities, people, and eating will be in your home.
Hosting a Thanksgiving feast means spending a lot of time in the kitchen. Since you will be hanging out in there preparing delicious dishes most of the day, it is a good idea to give your kitchen a deep cleaning before the cooking to make your job easier and more enjoyable.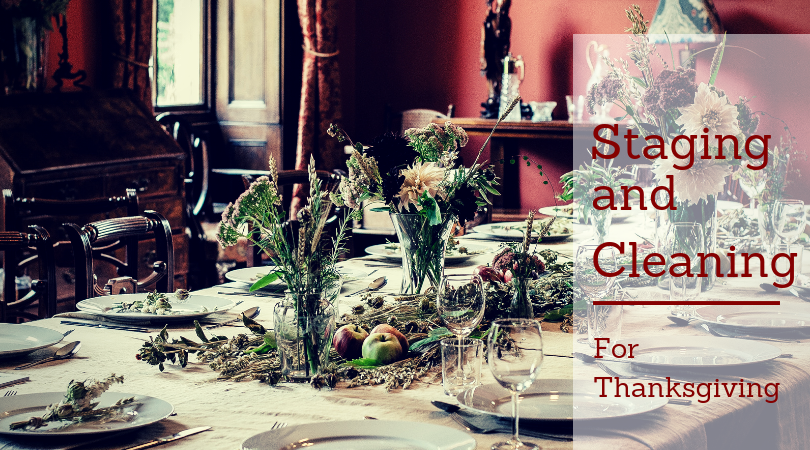 Sink
Get your sink ready to rinse and prep food and then hold dirty pots and pans once the cooking has begun. Give it a good scrub with an all-purpose cleaner or a homemade vinegar solution. Make sure the drains are clear and clean with baking soda. Clean the drain with a half cup of baking soda poured down the drain followed by a cup of heated white vinegar. Let this sit and fizz a few minutes and follow with a quart of boiling water poured down the disposal to flush everything down.
After all the cooking is done send some frozen citrus peels through the disposal to freshen it up.
Dishwasher
On Thanksgiving, your dishwasher is going to be working overtime with the high volume of dishes. Give your dishwasher a quick clean before the big day not only to make it look and smell pretty, but to help it perform better as well. Use these steps to get your dishwasher ready for Thanksgiving Day.
Clean the Drain- remove the bottom dish rack and remove any buildup or food caught in the drain.
...