March Madness for 2013 Louisville home sales!
Posted by Bob Sokoler on Tuesday, April 2, 2013 at 1:04 PM
By Bob Sokoler / April 2, 2013
Comment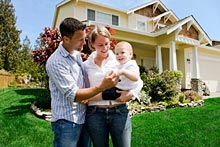 College Basketball is not the only thing on the minds of many in Louisville in March! Buying a Louisville home also ranks right up there. The number of homes going under contract in March 2013 skyrocketed when compared to just one year ago. Louisville experienced a 20.31 percent increase in homes going under contract. The number of homes sold and closed last month also increased when compared to 2012 by 15.66 percent.
With the average selling price up $8000 and the average median price up $5000 over March 2012, the numbers are encouraging for any Louisville homeowner thinking about putting their home on the market. Add to that a major increase in buyer activity and the number of homes on the market, (6,351 as of this blog post) and you have a formula that could see a shortage of Louisville homes to sell in the near future.
Many sellers may be sitting on the sidelines waiting for home prices to increase or a sign that the housing debacle of past years has officially passed. Slowly the news media is picking up on the fact that home sales have picked up. There have been a number of national stories on the increase of home sales, and Louisville's Courier-Journal has reported one or two stories about an increase in local sales. But it's far from being enough. Were constantly talking to potential sellers who have no clue where the market is and where it's going.
In the meantime we're seeing multiple offers on some new listings and a number of our Medley Sokoler Team agents are desperately looking for the right home for their buyers. It's a unique situation; just two years ago real estate agents were looking everywhere to find home buyers. Now the buyers are here yet selection is lower than we would have hoped for. For example one of our agents is looking for a home in the 40241 ZIP Code in a price range between 350 and $410,000. The house needs to have a second floor master but as of right now there are only a handful of homes that fit those requests on the market. The buyer has seen them and feels none are the correct fit. So the search continues for something that eventually should come on the market.
The increase buyer activity becomes evident when you look at the average number of days a home is sitting on the market. In 2012 the average home was on the market for 93 days 2013 the number has dropped to 83 days. Other parts of the country are reporting housing shortages and multiple offers coming in the first day a home goes on the market. That buying frenzy has not hit the Louisville area yet and it probably never will. But until word gets out that homes are starting to appreciate in value homeowners may continue to sit on the fence waiting.
March 2013

Number of Houses Under Contract

This month: 1682

Last month: 1387

This month last year: 100


Number of Houses Sold & Closed

This month: 1049

Last month: 810

This month last year: 93

Average Selling Price

This month: $170,424

Last month: $159,598

This month last year: $160,490


Average Days on Market

This month: 83

Last month: 85

This month last year: 92


Median Sales Price


140,000
March 2012

Number of Houses Under Contract

This month: 1398

Last month: 1226

This month last year: 127


Number of Houses Sold & Closed

This month: 907

Last month: 772

This month last year: 114

Average Selling Price

This month: $162,604

Last month: $156,724

This month last year: $161,047


Average Days on Market

This month: 92

Last month: 98

This month last year: 81


Median Sales Price


135,000