March Louisville real estate sales showing signs of a Sellers Market!
Posted by Bob Sokoler on Tuesday, April 1, 2014 at 9:37 PM
By Bob Sokoler / April 1, 2014
Comment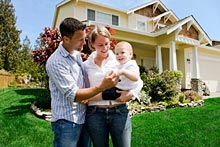 It was a rough beginning to 2014. Ice, snow, freezing temperatures and slush kept buyers indoors slowing down the Louisville housing recovery. The sales numbers for March 2014 reflect sharp decrease in home sales. The latest numbers from the Greater Louisville Association of Realtors shows the number of homes sold last month were down 19.5 % from March 2013.

But just like the weather, home sales for Louisville have taken a turn for the better. The number of homes going under contract in Louisville for March 2014 was actually up 8.7 %. That's a remarkable statistic considering much of March was in the deep-freeze and it indicates we've entered what could be described as a sellers market (more about that in a moment). We saw what was happening from our Sokoler Medley team offices every time the temperatures warmed up even for just a day, there was a flurry of showings and contracts followed. It's no wonder we put 40 homes under contract in the month of March .

The problem were tracking now is the number of homes currently on the market.
Last year at this time they were 7414 homes on the market, as of this writing there are 6029 homes on the market that's down 18.7%. With an increasing buyer demand and fewer homes on the market the housing recovery could easily stall. Buyers who have looked at the homes on the market have found some are overpriced, some are in need of deferred maintenance, some are in the wrong part of town and some just won't fit their needs.

Were constantly looking at the absorption rate for the Louisville area. In March 2013 the absorption rate was 6.77%. That meant there was almost a seven-month supply of homes based on the number of homes on the market and the number of sales for that month. As of last month the absorption rate was down to 4.86%. The national Association of realtors says that a six month supply is considered a balanced market that is roughly when the number of listing equals the number of buyers. Anything below a six-month supply and you move into a sellers' market. Meaning that sellers have the upper hand when it comes to selling a home.

In March we put a number of homes on the market that sold in a matter of days. If you are considering selling your home in 2014 now is the time to call us to review the home, stage it and list it. What it means to you as a seller is that you can list your home for more money than in the past 5 to 7 years and sell it quicker than in past years.

For buyers, interest rates remain below 5%, there are fewer homes on the market and for anyone looking to buy a home you'll need to follow five simple steps.
1) Get prequalified or preapproved by a lender you can trust. This is no longer a suggestion it's a must! Without a preapproval letter, your offer on a new property is worthless. If you're competing against another buyer who has a preapproval letter you'll lose every time!
2) Contact a good realtor and have them set up a search for you (we'd love to be your realtor of choice, we have a team standing by and as you're about to read that's very important)
3) Look at the listings that come online at least once a day, in many cases you'll see new listings twice a day.
4) If a new listing comes on the market that could be your new home call, text or email your realtor immediately. You need to see that home that day not the following day or the following week. Remember good homes go in a matter of hours these days.
5) Make sure your realtor is high tech. In this day and age a realtor who doesn't use a system like Docusign, instant forms, iPad and laptop computer will lose in a competitive situation to a high-tech realtor every time. Imagine you're at a home that you fall in love with and at the same time another couple is there who is also in love with the home. There realtor writes an offer on their computer while still in the house, sends it to the other agent for a possible immediate acceptance by the owner. Meanwhile the realtor without the tech tools has to drive back to their office and start to fill out a contract to be faxed in one signed it. Don't laugh it actually happens and the last time it did our buyer got the house. We don't know what happened to the other buyer and their agent.

We have a team of 10 agents standing by to get you in any home that matches your dreams. You can reach me day or night at 502-376-5483. Happy house hunting!