Louisville Named 'One of the Best Places to Own a Home For Less Than $1,000 a Month'
Posted by Bob Sokoler on Thursday, January 23, 2020 at 2:36 PM
By Bob Sokoler / January 23, 2020
Comment
Louisville has once again made it to the top of a list as one of the best places in America to live! This time it is because not only is Louisville a highly desirable city to live in, it is also affordable for those who wish to own a home!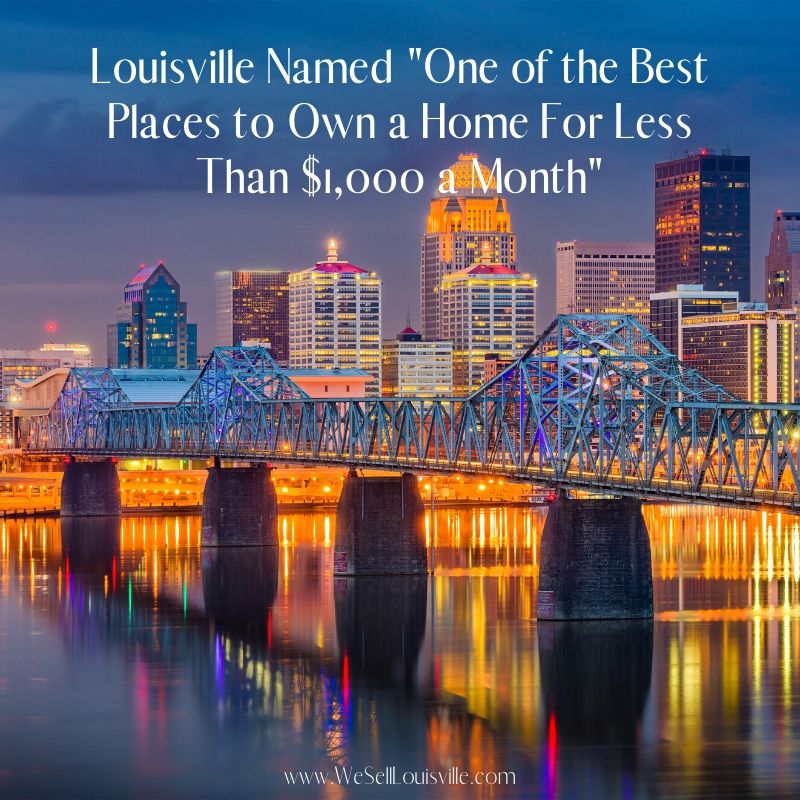 Recently an article was written touching on the affordability of owning a home in America today and the belief of some Americans as to the attainability of making the dream of homeownership a reality.
The article stated that many Americans feel it is impossible to be able to purchase a home. As we see an increase in the amount of jobs available in the labor market, wages have not risen much to match the inflation of today's cost of living. According to Brookings Institution, the average median wage in the country for workers aged 25-54 (when adjusted for inflation) has only risen 3% since 1979.
Despite home buyer beliefs and slower rising wages, the article also went on to say that there is now more hope and help than ever for first-time homeowners and all homebuyers in general. Home mortgage rates have come way down since the recession of the not so distant past. This alone helps hugely in the ability to purchase and afford a home. Today a Conventional 97 loan requires a down payment of just 3% and an FHA (Federal Housing Administration) loan requires a minimum 3.5% down payment for buyers with a credit score of at least 580. These qualifications are much more attainable than the 10-20% down payments and 680 or higher credit requirements in the past.
Though loans are easier to qualify for, the rising costs of homes on the market across America have priced some home buyers out of their dreams of owning their own property. Even though some housing markets are rising more quickly than wages, there are still many great places across America that have affordable housing and are actually great places to live.
GOBankingRates analyzed more than 100 cities in the U.S.in the largest housing markets with data from the Zillow website to determine the best cities in America where you can own a home for less than $1,000 a month. Of the top 25 most affordable and livable cities, Louisville came in at number 18 on the list.
Here is the information for Louisville from the List of "Best Places to Own a Home for Less Than $1,000 a Month" :
Median Home List Price: $205,000

Monthly Mortgage Cost: $912

One Year Market Forecast: 3.6%

Livability Score: 62
The study took the median list price for homes in each city and used a 20% down payment, added in property taxes, as well as used a 3.68% mortgage interest rate to calculate what the estimated monthly payment would be to own a home in that city. They also used livability scores from the site AreaVibes and of course the one year market forecast for the area to round out the data and come to a final ranking on the affordability and desirability of each city.
We have always known that Louisville is one of the best cities to live in the U.S. this just helps to prove our point. For help buying a home in Louisville or more information on living in Louisville and the best Louisville neighborhoods please browse our website or contact us anytime