It's Almost Thanksgiving! Time to Prepare for Family or Stage the House
Posted by Bob Sokoler on Monday, November 12, 2018 at 12:04 PM
By Bob Sokoler / November 12, 2018
Comment
Thanksgiving means parades, football, family, friends, and food- lots of food. It's all about coming together around a large feast and hopefully reflecting on all of our blessings while enjoying one another's company. If you are hosting this year that means all of the festivities, people, and eating will be in your home.
Hosting a Thanksgiving feast means spending a lot of time in the kitchen. Since you will be hanging out in there preparing delicious dishes most of the day, it is a good idea to give your kitchen a deep cleaning before the cooking to make your job easier and more enjoyable.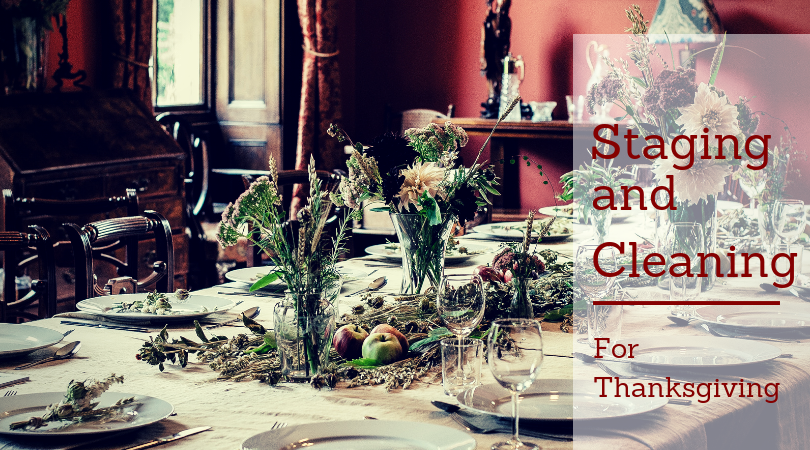 Sink
Get your sink ready to rinse and prep food and then hold dirty pots and pans once the cooking has begun. Give it a good scrub with an all-purpose cleaner or a homemade vinegar solution. Make sure the drains are clear and clean with baking soda. Clean the drain with a half cup of baking soda poured down the drain followed by a cup of heated white vinegar. Let this sit and fizz a few minutes and follow with a quart of boiling water poured down the disposal to flush everything down.
After all the cooking is done send some frozen citrus peels through the disposal to freshen it up.
Dishwasher
On Thanksgiving, your dishwasher is going to be working overtime with the high volume of dishes. Give your dishwasher a quick clean before the big day not only to make it look and smell pretty, but to help it perform better as well. Use these steps to get your dishwasher ready for Thanksgiving Day.
Clean the Drain- remove the bottom dish rack and remove any buildup or food caught in the drain.
Perform a Vinegar Wash- place a cup of white vinegar into a dishwasher-safe container on the top rack and run a hot water cycle.
Finish with a Baking Soda Rinse- sprinkle a cup of baking soda all over the bottom of the dishwasher and run the shortest cycle with hot water.
Now you are ready to clean some dishes efficiently and odor free!
Counters
Give the counters a good cleaning to be ready for all the stuff that will be spread across them. Don't just give them a quick wipe down. Take all of the stuff that usually resides on them like the toaster, the coffee maker, sugar canister, cookie jar, etc. and place them somewhere else while you clean the entire counter. If you have stone or tile counters consider having them professionally cleaned and sealed to be in their best ready condition.
Fridge
Before you go shopping for the ingredients of the big meal is a great time to clean out the fridge. Get rid of all the old food and condiments that never get used to make room and give all the surfaces a quick spritz and wipe down with a vinegar and water solution.
Floors
Now that everything above ground is clean, it is time to give attention to the floors. Shake out rugs or stick them in the laundry if possible. Sweep or vacuum the floors and follow up with a good mopping. Now is a great time to have a professional floor cleaning and sealing. Sealing will help to make stains and spills easier to clean.
More Staging and Cleaning Tips: