First Time Buyers are Looking for Lifelong Dwellings Not Just Starter Homes
Posted by Bob Sokoler on Friday, September 23, 2016 at 9:32 AM
By Bob Sokoler / September 23, 2016
Comment
Are Millennials Buying for Life and Skipping the Starter Home?
Instead of the typical smallish and modest dwelling just to get your feet wet in home ownership, many of today's first time home buyers are interested in purchasing something a bit nicer that they plan to live in much longer and possibly their whole life.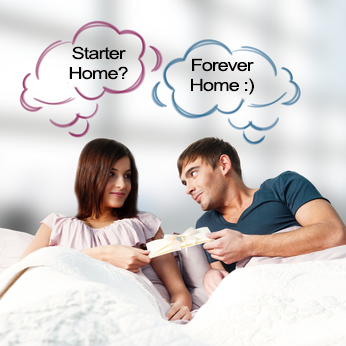 Bank of America conducted a poll of over 1,000 adults age 18 and older who are considering home ownership in the future. What they saw from the poll is that more people are waiting to purchase a first home until later in their life. They are waiting longer, which gives them better insight into what they truly need from a home, a home that they can raise a family in and commute to a career from. Homes with lots of square footage, a big backyard, and highly rated school districts.
One other thing that came up in the polling is that many people anticipate buying a home will not be an easy process and prefer to go through that process as few times as possible. The big result showed that about 75% of the people polled would prefer to skip the starter home and wait a little bit longer while they save money until they can afford to purchase the home they truly want. 35% of those people also said they imagine themselves retiring in this home they are going to save up for.
Another interesting finding of the poll was that in contrast to many recent reports of millennials looking into city life, 52% percent of first-time buyers are looking to move to the suburbs to purchase a home. 26% were interested in city life and 22% said they hope to live in a rural area. A whopping 75% of these potential buyers want a single-family home.
The studies that show a large number of people moving to the city are actually focused on one type or group of millennials- the group that is well- educated and working in high paying jobs. With home prices rising more quickly in urban areas than in the suburbs it keeps suburban homes attractive to many buyers.
No matter what type of home you are looking for the Louisville area is a great place to live. We can help you find a home that fits your lifestyle and needs. For more information on buying and selling homes in Louisville check out our website or contact us anytime.