13 Tips for Your Final Walk-Through When Buying a House
Posted by Bob Sokoler on Tuesday, May 8, 2018 at 11:32 AM
By Bob Sokoler / May 8, 2018
Comment
The final walk-through is usually conducted about 2 to 3 days before closing or's final signing. This walk-through is crucial to verifying any work that was done on the inspection report, and verify that the home is as it should be when it closes. If you don't do this final walk-through and something is broken, not working, or the house has been trashed, there's really nothing you can do about it. This is why the final walk-through is imperative to the home buying process. Here are 12 tips for your final walk-through on things to check, verify, and confirm.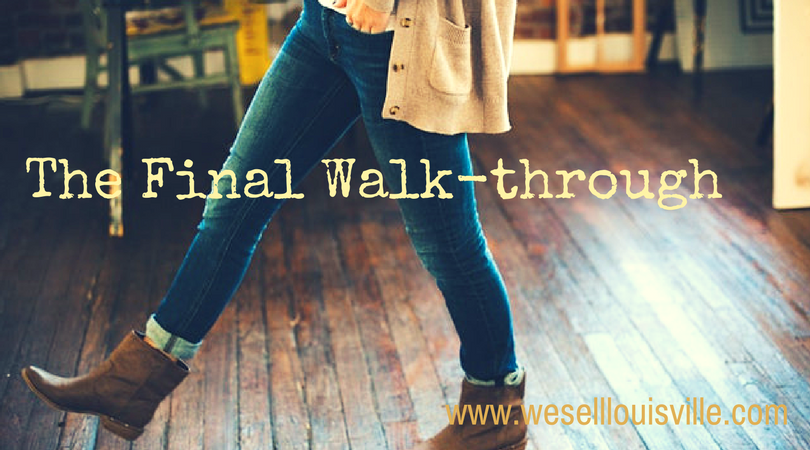 #1. Set aside at least 60 minutes for the final walk-through and make sure that it is done about 2 to 3 days before final closing. If the previous sellers are already out, this is a perfect time to double check everything.
#2. Take your contract with you and your real estate agent to confirm that any items that were agreed upon to be fixed or repaired have been done and that they have left the house with the right materials and any items that were set to stay.
#3. Start on the inside and open and close all the windows and doors and check that all latches and locks work properly.
#4. Test all heating and air-conditioning systems.
#5. Confirm that all appliances are in good working order and as they should be.
#6. Flush all the toilets and check all the faucets.
#7. Test all the light switches and electrical outlets. Bring along a hairdryer or something small that can easily be plugged in to verify electricity.
#8. Test all smoke detectors and CO detectors.
#9. Make sure there are no leaks from faucets, water lines, or drainpipes and check underneath the sinks for any signs of mold, mildew, or water damage.
#10. Confirm that all bathtubs, showers, and sinks a drain properly. Run them for about a minute to see if there is a clog.
#11. Check the exterior of the home for any damage to doors, windows, screens, siding, paint, and roof.
#12. Confirm that all landscaping remains the same as it was during the inspection. If large planter boxes or pots are removed, verify that the contract states what to do with them.
#13. Verify that all items that were contracted to stay are still in the home such as drapes, curtain rods, and anything attached to the home itself.
This final walk-through is so important. I can't tell you how many times buyers have negated the final walk-through and then moved in only to find the house trashed, or something damaged. Unfortunately, there is very little that buyers can do once they've agreed and signed the papers. If something is not right, we can extend closing out until it is repaired or replaced.
More Advice for Buyers: