Bob Sokoler
Listing Specialist / Owner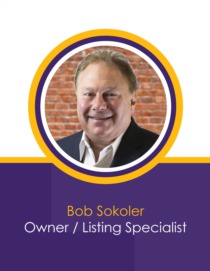 A Sixteen Year Real Estate Veteran Bob Sokoler has made a career out of helping people navigate life's most significant decisions. The Sokoler Team has become the trusted name in area residential real estate, and he wants everyone to have a positive experience when buying or selling a home. 
Bob's greatest goal is to help others move forward towards their next step in life. Reviews for Bob and his team almost always include words like: "amazing job," "responsive and helpful," "great experience," "easiest and most organized," and "could not have asked for a better home buying experience." 
Known locally as a technology expert, Bob combines his love of real estate with technology and prides himself on being on call 24 hours a day. With his son Greg (a great agent and leading technology expert), and their team, The SokolerTeam has been number 1 in the Louisville area 12 years in a row.
Bob's team prides itself in being the most accessible agents in Louisville and Southern Indiana, and they genuinely feel it is an honor to be called on for advice or help no matter the concern.
A real estate professional wears many hats, everything from trusted advisor to neighborhood expert, companion, and guide. It starts at the first meeting and continues to the closing table. When you work with The Sokoler Team, you'll immediately understand why clients think of Bob and his team as dedicated specialists who have mastered the skills needed for evaluating, marketing, and matching buyers and sellers.
In his spare time, Bob hosts a weekly Real Estate radio show on 840 WHAS (Sunday 8:30 - 9:00 am) and keeps active in the Louisville media. His visibility in the community helps Bob stay in contact with thousands of people every day.
Bob is also a two-time Emmy award-winning reporter; his hobbies include Computers, Photography, Home Repair, and Gardening. Besides son Greg, Bob has two daughters and 5 Grandchildren. His kids and grandkids are the love of his life.
We would love to review what makes us different from other agents by clicking on the links below.
1) Click here to download our Sellers Marketing Book. 
2) Buying a home in Louisville Guide click here 
3) To see some Real SUCCESS Story Videos from Louisville Sellers: click here.
4) To hear from Louisville Home Buyers click here
 5) Sign up for our Mistakes to Avoid when Buying a Louisville Area Home Video Series: Here!
 6) Read our reviews on Zillow: click here.
Ready to learn more? Find out about The Sokoler Team and check out some of the Louisville area's best neighborhoods; explore https://www.weselllouisville.com.